Endotech.io is the technology provider, with a track record of 1000+ days, Billions in AUM (Assets under management). Decentralized Smart Contract. Crypto & Forex AI trading, no selling, no recruiting, no monthly fees. The Project is on the Blockchain. 100% transparent. Get paid instantly to your wallet address.
Two main elements:
1. Daisy Fund: Transparent AI trading
2. Daisy Crowd: Referral Program & Endotech Equity
Daisy Fund:
-Crypto & Forex AI trading
- No selling, no recruiting, no monthly fees.
- Simply contribute & collect rewards.
- Withdraw your money at any time.

Rewards For Contributors:
• Up to 10 Crowd Funding Tiers to choose from starting at just $100.
• Every contributor gets their equal share of 5% Endotech stock.
• 50% to 70% of each contribution is used in trading for development.
• 70% of the trading profits are rewarded back to the contributor.
• 15% of the trading profit are rewarded to the residual referral plan.
• Contributors can withdraw trading rewards at anytime.
• All members are able to participate in the Daisy referral plan.
• Referral plan pays out up to 46% of each contribution.
Smart Contract Distribution Of Funds: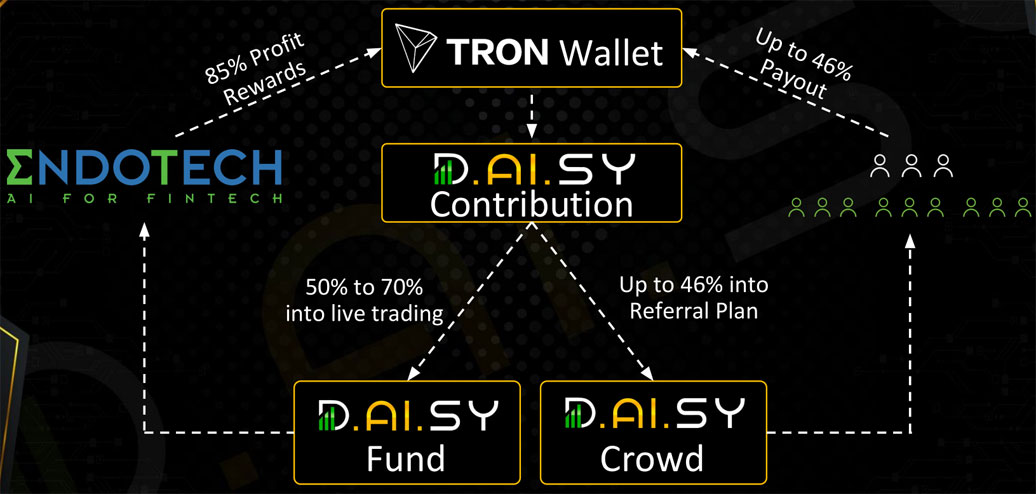 Why Tron Blockchain:
▪ Allows automated interaction between members and Daisy
▪ Removes the need for a company to be in control
▪ Allows all promises to be executed instantly with 100% transparency
▪ Tron blockchain is among the fastest and most scalable
▪ Low gas fees allow for high performing smart contracts at low cost
▪ Tron is a top emerging Decentralized App platform with a big future
▪ TRX USDT dominates all USDT liquidity in the market
Passive Income:
Benefits Even If A Member Does Not Refer Anyone.
1. Owning equity - potential return from selling Endotech stock or receiving dividends in the future
2. Trading rewards - potential rewards from successful trading performance of Endotech's AI System
3. Potential matrix spillover
, generating maximum of 48% return on crowdfunding contribution from spillover in the referral plan, even with no referrals
Crowd Fund Tier Table: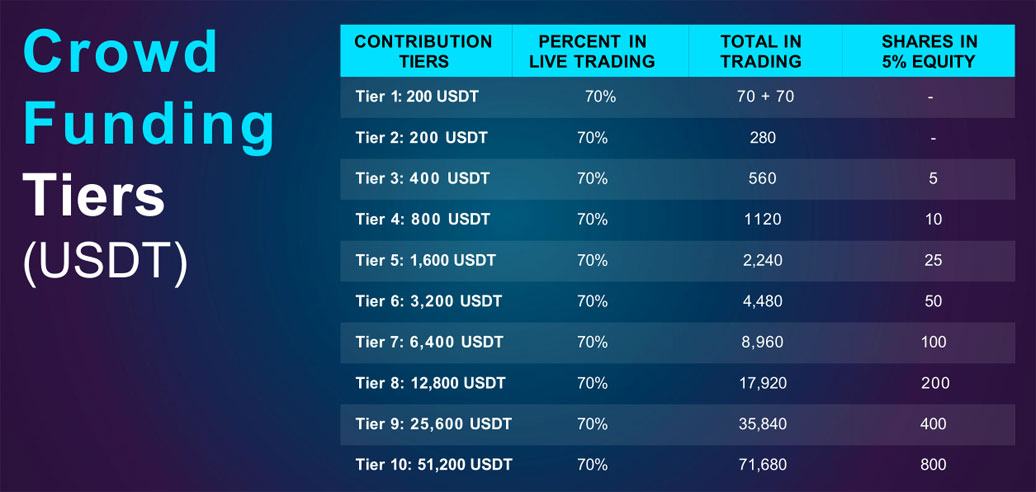 Referral Plan:

Instant Payouts. Up To 46% Payouts.

Upfront Income

3×10 Forced Matrix Bonus

Personal Referral Bonus

Matrix Check Matching Bonus

Pacesetter Revenue Share Bonus

Upfront Infinity Bonus

Residual Income From Trading Profits

10 Generation Unilevel Trading Bonus

Infinity Residual Bonus

Stock Equity

Pace-Setters Equity Bonus

DAISY Global Documents.
More Languages...

【Click Here To Download The Daisy Powerpoint Presentation】

Daisy Global Overview And Compensation Plan Pdf V2

Crowd Fund Recap

10 Crowd Funding Packs To Choose From Starting At $100.00

Packs 1-7: 50% Goes Into Daisy Fund Fortrading

Packs 8-10: 70% Goes Into Daisy Fund Fortrading

- 70% Of Trading Profits Rewarded Back To You

- 15% Of All Trading Rewards Goes Into Referral Residual Plan

- Withdraw Trading Rewards At Any Time

- Get Stock In Endotech, 5% Shared Equally

- Up To 46% Upfront Payout In Referral Plan

- Referral Plan Funds $10m To Daisy Ai For Development

Daisy Official Video:


DAISY Global is a disruptive crowd funding model for financial technologies, a trusted Crypto & Forex AI trading platform with broad prospects and development potential. DAISY Global is A Crowdfunding smart contract that offers profits, equity and income to every member.

=>【Click Here to Join Now】