DAISY Global is A Crowdfunding smart contract that offers profits, equity and income to every member. You do not have to refer people to earn, because passive income can be earned from DAISY's business activities. However, if you are attracting referrals, there are several ways to earn money with the D.AI.SY referral plan. Additional Income 3 × 10 Forced Matrix Bonus. Personal referral bonus. Matrix Check Matching Bonus. Pacesetter Revenue Share Bonus. Initial Infinite Bonus. Infinite check matching bonus.
Referral Plan:Instant Payouts. Up To 30% Payouts.
The True D.AI.SY AI Story:

Rewards For Contributors:
• Up to 10 Crowd Funding Tiers to choose from starting at just $200.
• Every contributor gets their equal share of 5% stock.
• 70% of each contribution is used in trading for development.
• 70% of the trading profits are rewarded back to the contributor.
• 15% of the trading profit are rewarded to the residual referral plan.
• Contributors can withdraw trading rewards at anytime.
• All members are able to participate in the Daisy referral plan.
• Referral plan pays out up to 30% of each contribution.
DAISY GLOBAL CALL October 1st:
Passive Income:
Benefits Even If A Member Does Not Refer Anyone.
1. Owning equity - potential return from selling stock or receiving dividends in the future
2. Trading rewards - potential rewards from successful trading performance of DAISY's AI System
3. Potential matrix spillover
, generating maximum of 30% return on crowdfunding contribution from spillover in the referral plan, even with no referrals
Crowd Fund Tier Table: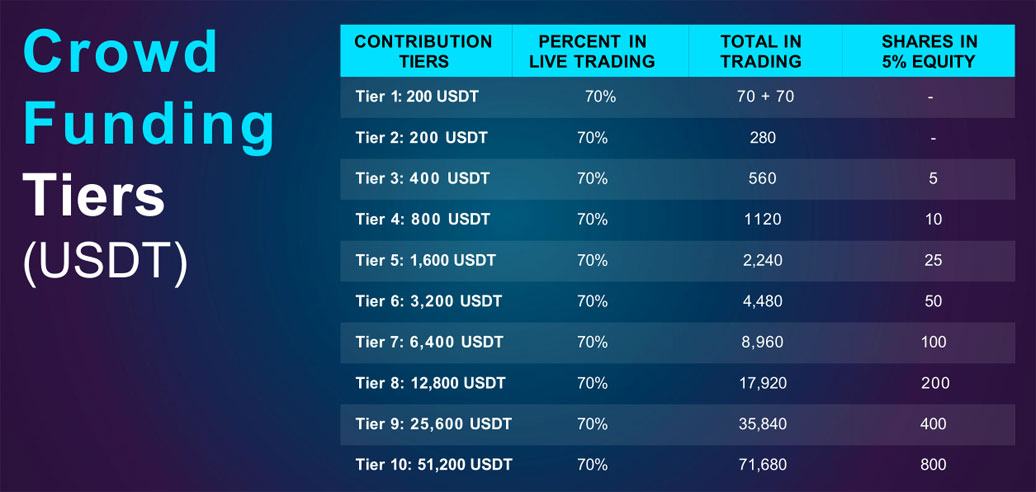 ​​Updates when purchasing DAISY Tiers:

1. The 70/30 fund distribution is effective starting from the first Tier! 70% - in trading, 30% - in crowdfunding

2. Unlimited Momentum packages with a 85/15 fund distribution are effective starting from the second Tier. 85% - in trading, 5% - to the sponsor, 10% - in Builders and Achievers pools.

3. EndoTech shares are now credited starting from the third DAISY Tier!

Promotions:

Momentum Packs means that when you buy the same Tier again, 85% of fund will enter AI trading instead of 70%. Only for repeated purchase Tier 2 or higher Tier repeated purchase is valid, please confirm whether the amount of trading funds is consistent when making repeated purchases. Unlimited begins at Tier 2.

Referral Plan:

Instant Payouts. Up To 30% Payouts.

Upfront Income

3×10 Forced Matrix Bonus

Personal Referral Bonus

Matrix Check Matching Bonus

Pacesetter Revenue Share Bonus

Upfront Infinity Bonus

Residual Income From Trading Profits

10 Generation Unilevel Trading Bonus

Infinity Residual Bonus

Stock Equity




3st ever D.ai.sy Global event:

Daisy Global Event Dubai February 21st, 2024; Daisy 3 year anniversary, Dubai Coca Cola Stadium,

limitless2024.com

for info & tickets.

Dubai Event Pool: Participate in Dubai Events and receive bonus pool dividends.

2 New Dubai Event Pools will begin February 21st, 2024: Attendee Pool: Attend the Dubai event and get a share in Pool 1: Have 2 personal referrals attend the event with you, get a 2nd share in the attendee pool. Promoter Pool: 1 share in Pool 2 for every 5 personal referrals that you have attending the event! Buy Dubai event link:

limitless2024.com

Daisy Dubai Event Pool Reward Reference:
Daisy Dubai Event Highlight Video:



New Daisy 2.0 Model

✳️ Launches February 2024

✳️ Decentralized Web 3.0 platform

✳️ (change from proposed Hedge Fund Model)

✳️ Will allow to operate in more countries

✳️ Seamless migration from current wallets

✳️ Continue to operate on blockchain

✳️ Continue to be smart contract model

✳️ Same trading as used currently

✳️ No more tiers, add any amount new funds

✳️ Withdraw or compound same as current model

✳️ Withdraw as you currently

✳️ New referral pay plan (no more matrixes)

✳️ Earn on addition of new funds and trading profits

D.AI.SY is the number one, and largest crowd funding project ever created raising funds for the development of AI (Artificial Intelligence) financial technologies that will change the financial industry. In addition we are funding a DeFi Launch Pad platform helping the decentralization of finance. In the first 6 months since its launch on March 30, 2021, more than 190,000 people from over 100+ countries have participated contributing more than $300 million USDT in crowd fund contributions. You can earn passive income as a crowd funder as well as lucrative upfront and passive rewards by sharing D.AI.SY with others.
Here's the Forex AI report from April 2022 to date: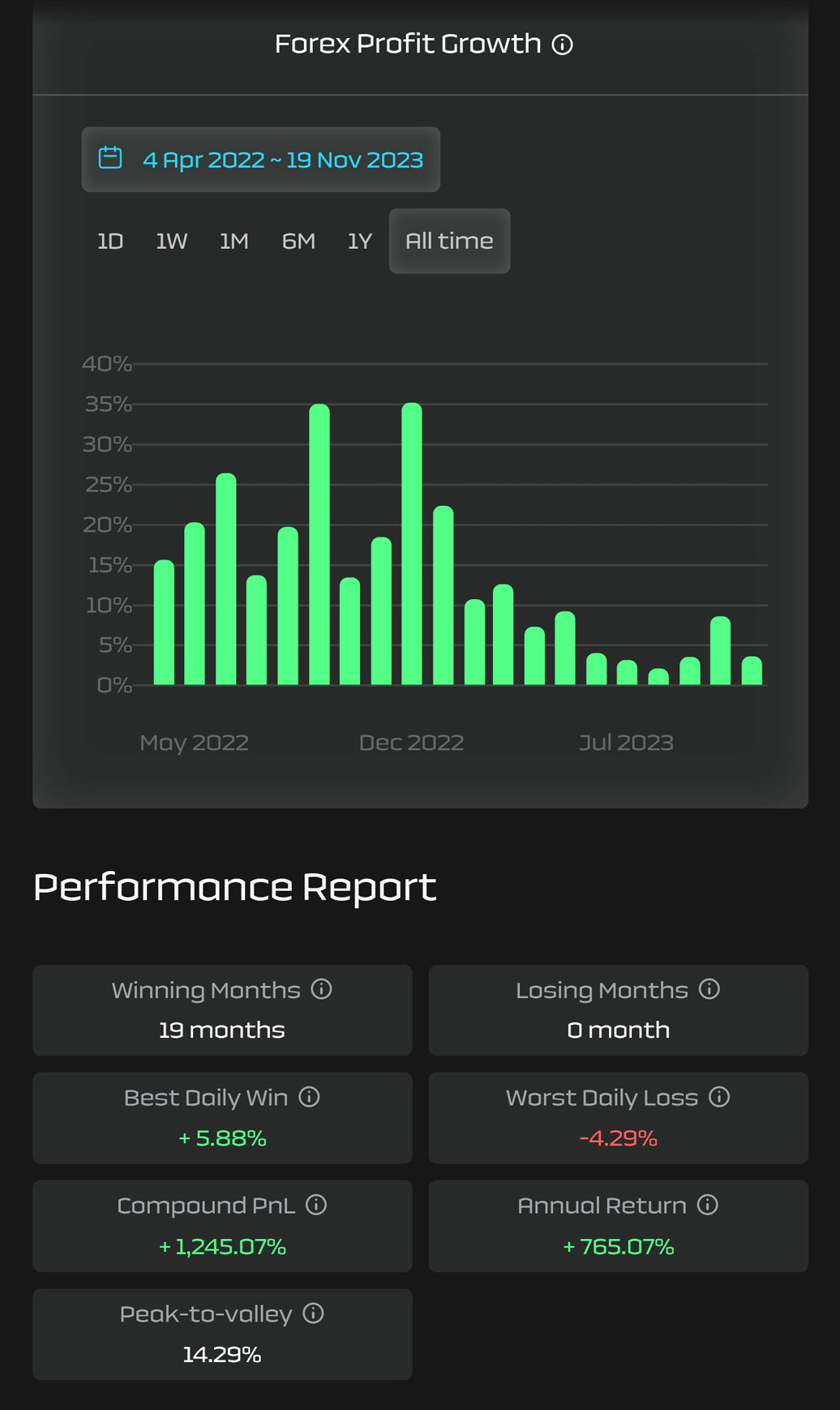 Trading vs. AI development:
AI development cannot be compared to regular trading. Development means testing. Testing might not always bring profits or bring the same level of profits during each phase, but the process is necessary to reach the goal of a super AI. It's like teaching a child to walk. It has to crawl, fall, and stand before being able to walk, but it doesn't take long before walking turns into running. The DAISY AI crowdfunding development will end in February 2024. During the test development period, the income will be high or low. You must fully understand the project. If you choose to join, you will voluntarily accept all profit results and be willing to bear a certain risk of loss!
D.AI.SY'S TRACK RECORD
• 590M has been Crowd Funded
• 340M+ has been generated in trading profits
• 242M+ has been paid out in AI Trading Rewards
• 165M+ has been paid out in our referral plan
• 20M+ has been paid out on the D.AI.SY bonus pools
• 220,000 wallets have contributed to the Crowd
Fund Smart Contract, and there have been over
2M transactions into the smart contract
• FOREX has generated profits of over 1000%
(compounded) in 16 months
• Crypto AI. Just re-launche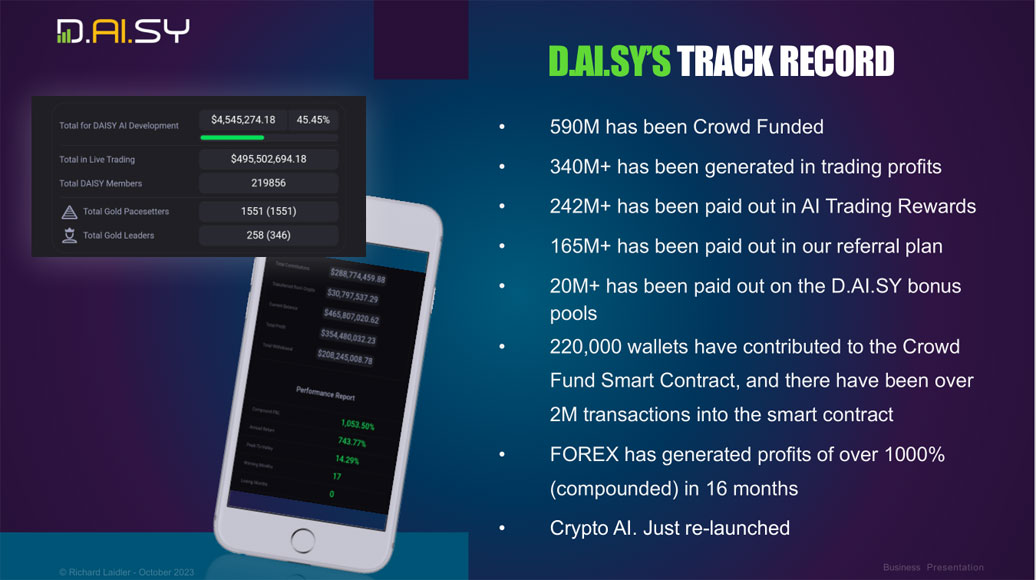 DAISY Global Talk with Founder Jeremy Roma:

DAISY Global is an Innovative disruptive model with ground breaking technology. Daisy isn't a company: It is a community Built on Tron based smart contract, designed for Equity & Venture Capital crowdfunding in a way that has never been done before. Unlike so many opportunities in which people are earning money only when new people are getting started: The power of the daisy model is that it is designed to be sustainable so that everyone can earn profits, equity & income even if no one contributes/gets started again. It is Long term, viable & sustainable True Passive Income. This income model is the pinnacle of financial aspirations, allowing for earnings to grow exponentially over time even without sustained efforts. At its essence, compounding residual income means that your initial earnings are reinvested to produce further income. This unique financial phenomenon brings about exponential growth, financial security, and unparalleled flexibility, making it the ultimate passive income stream. The holy grail of residual income! Let's create generational wealth together!

Friendly reminder:


1. No financial advice can be given You have to go through the materials and determine by yourself if this is a good investment for you.

2. No one can predict the future ROI an it's not wise to promise you any ROI.

3. This is not an investment. You are contributing to a crowdfund. Read/watch the material to understand then make an informed decision

4.The DAISY AI smart contract has been formed. Once invested, Crowd funds cannot exit arbitrarily. After the development of the DAISY AI system is completed, DAISY will provide a withdrawal plan for trading funds, but you can always withdraw trading profits without time limit.

5.Daisy maintains long-term stable profitability under the premise of ensuring the safety of funds. This is a long-term project, not a short-term profiteering project.

6. Purchasing the Daisy Crowd Fund packages is a contribution to the equity crowd fund for the Daisy AI development and not a trading investment. DAISY is giving both shares of stock in the company and profit sharing from trading results, to each Contributor as crowd funding rewards.

7. Right now you can only withdraw profits. Later on when crowd funding limit has reached and goes public, you can withdraw everything if you want.

Learn all about Daisy AI

Step by Step guide to purchasing your Limitless 2024 event ticket! Don't miss the launch of our NEXT LEVEL together!

Limitless 2024 ticket purchase:

1. Open

Limitless2024.com

with your Tronlink (not Klever, neither Token Pocket) dApp browser of the wallet you want to register for the event

2. Click "connect"

3. Fill out all required fields MANUALLY letter by letter (copy & paste, neither autofill will let u proceed with purchase)

4. Don't use double last names

5. Don't use special characters as "-" connecting last names

6. Don't use "+" for your phone number, use "00" instead

7. Use English letters only (ö, ø, ô etc. won't work)

8.Approve (then tronlink password)

9. You'll be directed back to the same page, now hit the purchase button and that's it

10. In case you haven't gotten a confirmation email, please check spam folder

11. In case your country or last name contains 2 words, please write them without a gap in between.

For example:

"United Kingdom" would turn into "Unitedkingdom".

Remember: 1 ticket per wallet

Event Update: One-Day Event on February 21st!

Our event has transformed into an unforgettable one-day event on February 21st! So, instead of the two days as previously announced, the event will only take place at Coca Cola Arena on February 21st.

Ticket Information:

Please note that e-tickets will be sent closer to the event date. Upon purchase, you'll receive an order confirmation; check your spam folder if needed. For assistance, contact us at

[email protected]

always providing the purchase wallet address.


DAISY Global is a disruptive crowd funding model for financial technologies, a trusted Crypto & Forex AI trading platform with broad prospects and development potential. DAISY Global is A Crowdfunding smart contract that offers profits, equity and income to every member.

=>【Click Here to Join Now】




Other money-making projects: