Daisy AI Forex & Crypto Crowd Fund Trading Rewards & Referral Income Calculator (Updated Sept 30). Please watch this tutorial on how to use the NEW Calculator that takes into account the following.
- Total Crowd Fund Tiers purchased
- New Tiers added over time
- Withdrawals including performance fee
- 6 monthly performance fee deductions
- 5 year compounding outcomes

Disclaimer:
Participating in this crowdfunding campaign is a contribution towards AI algorithms development and testing by through a Decentralized Autonomous Organization (DAO) and the use of smart contracts on public blockchain. The smart contracts have been independently audited and verified. Crowdfunding campaign contributors shall receive staking rewards resulted from AI algorithms activity, as well as equity in . Prior to equity distribution, each contributor shall be required to go through KYC and AML verification. is preparing for public listing, should not go ahead with listing, the equity allocated for crowdfunding participants shall be converted into dividends for each contributor.
Past performance does not guarantee future results and is for informational purposes only. Historical performances shown are also the result of compounding profits. The rewards are contingent upon AI performance and results are not a guarantee. All performance shall be visible with full transparency to each crowdfunding contributor.
This document is not an offer to sell or a solicitation of offers to purchase any securities. Copies of this document may not be sent to jurisdictions, or distributed in or sent from jurisdictions, in which this is barred or prohibited by law. The information contained herein shall not constitute an offer to sell or the solicitation of an offer to buy, in any jurisdiction in which such offer or solicitation would be unlawful prior to registration, exemption from registration or qualification under the securities laws of any jurisdiction.
Not available in all countries including the US. Anyone participating in or promoting this campaign is required to comply with all the regulations that apply depending on their jurisdiction.
This publication may contain specific forward-looking statements, e.g., statements including terms like "believe", "assume", "expect", "forecast", "project", "may", "could", "might", "will" or similar expressions. Such forward-looking statements are subject to known and unknown risks, uncertainties and other factors which may result in a substantial divergence between the actual results, financial situation, development or performance and those explicitly or implicitly presumed in these statements. Against the background of these uncertainties, readers should not rely on forward-looking statements. No responsibility is assumed to up- date forward-looking statements or to adapt them to future events or developments.
Weekly Forex AI Trading Result Statistics Explained:
Download the Daisy Forex AI Spreadsheet:
https://docs.google.com/spreadsheets/d/1WjBGhrlhTTO06XEHUcMUgTHM-u8f2HCN
Weekly Daisy Forex AI Trading Statistics Explained
There is the raw trading result with NO compounding and there is the cumulative result with compounding working on the assumption you put funds into Forex at the start in April 2022 and did not withdraw and did not add more.The weekly slides are for illustrative purposes to give a guide on the performance.They are meant to be an exact reflection of everyone's personal account because everyone varies based on when they started, when they topped up, when they withdrew etc.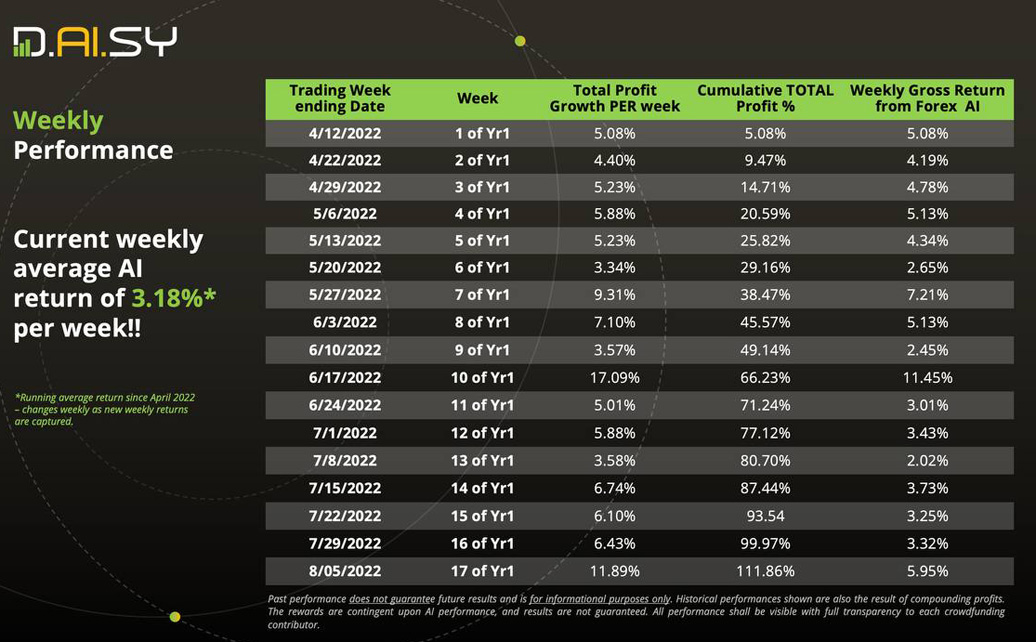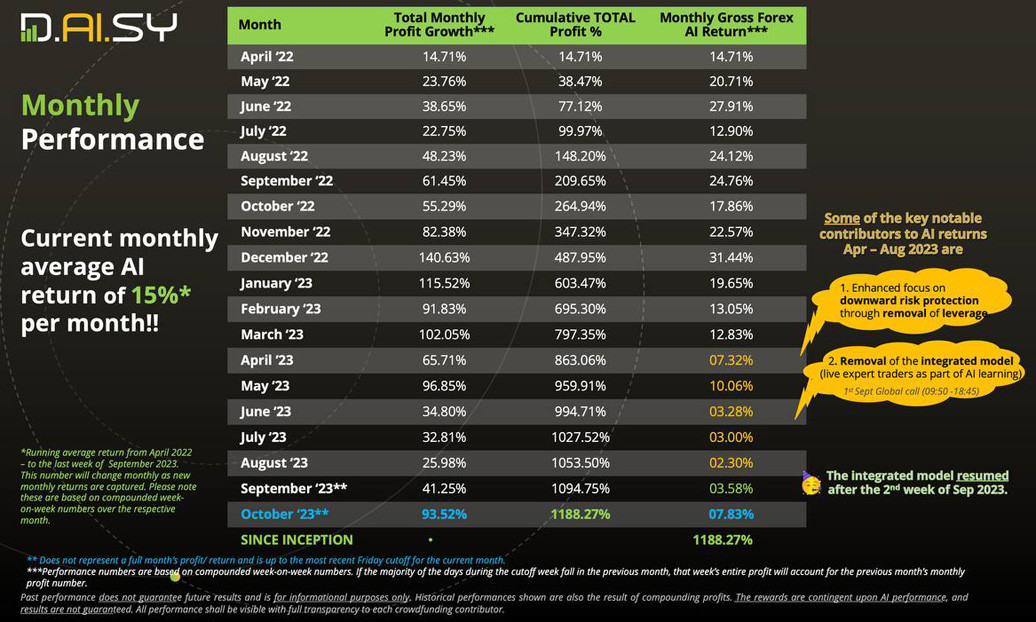 Here's the Forex AI report from April 2022 to date: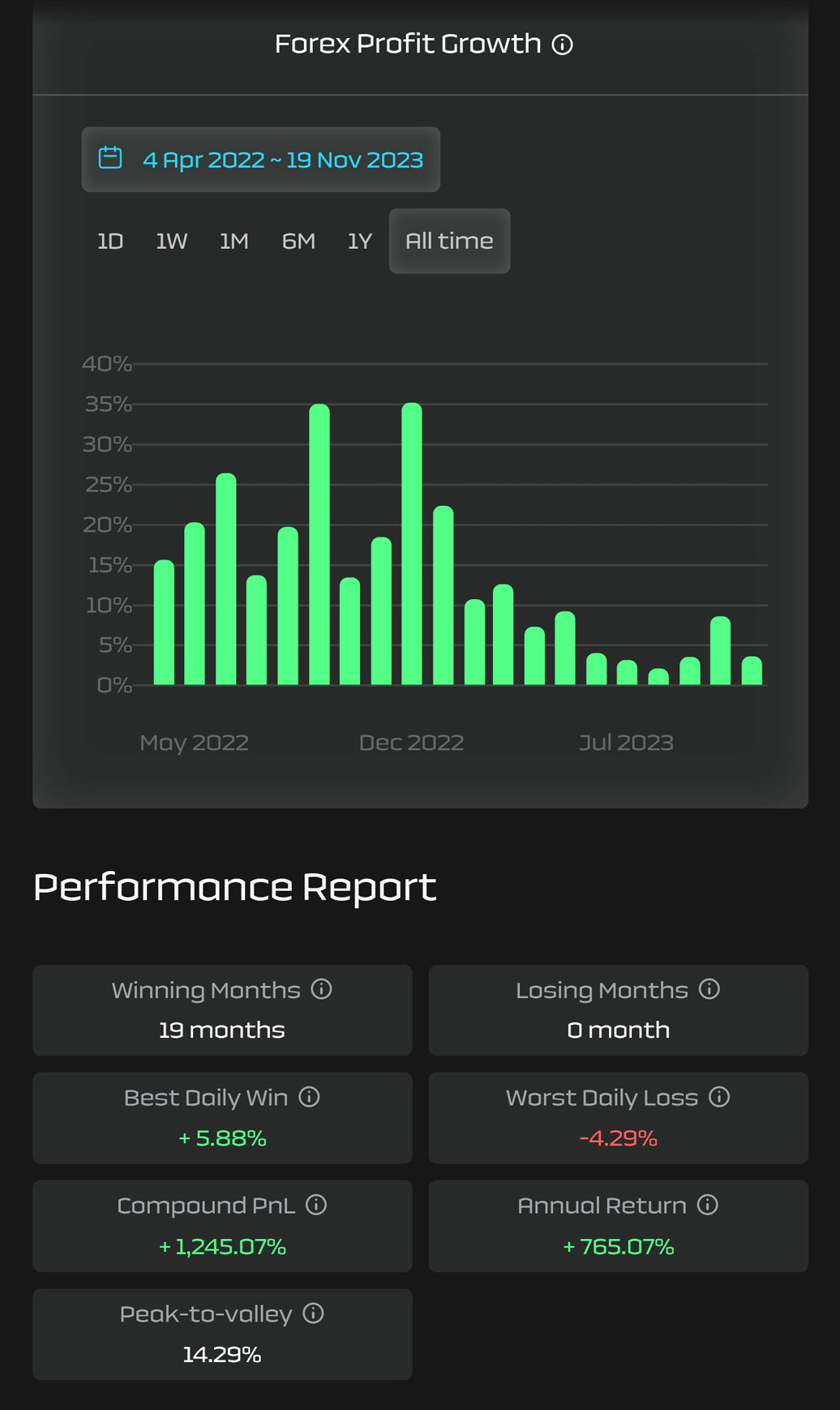 Learn all about Daisy AI
1、What is Daisy AI?
2、Daisy AI Reward Plan
3、Daisy AI Registration Tutorial
4、Forex & Crypto AI trading Comparison
https://www.daisydapp.com/join/calculator/
Friendly reminder:
1. No financial advice can be given You have to go through the materials and determine by yourself if this is a good investment for you.
2. No one can predict the future ROI an it's not wise to promise you any ROI.
DISCLAIMER:
Trading on financial markets involves significant risks and can bring both, profits and losses. This web publishes both, general profitability indicators and profitability statistics using the income of one of the participants in the DAISY crowdfunding model as an example. Past trading performance does not guarantee future successful trades. This information is for educational and informational purposes only, and does not constitute individual investment advice. You are solely responsible for your actions and decisions when using this .
DAISY Global is a disruptive crowd funding model for financial technologies, a trusted Crypto & Forex AI trading platform with broad prospects and development potential. DAISY Global is A Crowdfunding smart contract that offers profits, equity and income to every member.