Introducing the Moontography Project - Supporting Blockchains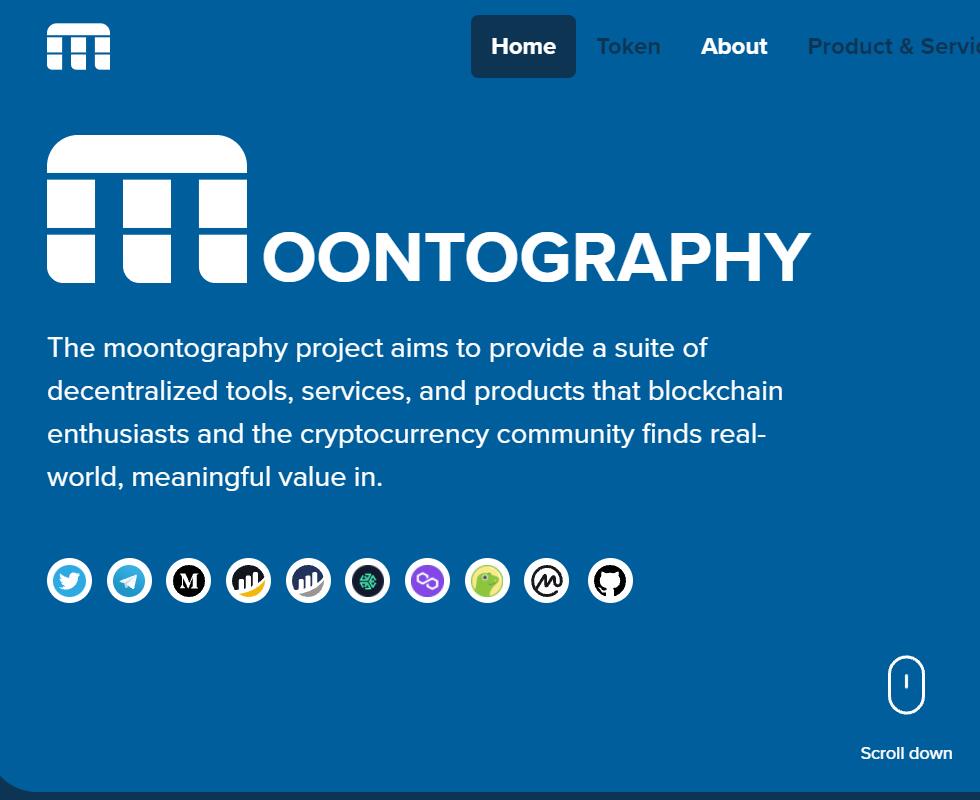 The moontography project $MTGY aims to provide a suite of decentralized tools, services, and products that the crypto community finds real-world, meaningful value in.
✅ 1,000,000,000 max total supply
✅ 200M burned
✅ 200M is time locked until end of year (will be relocked at this time unless any of these funds are needed, not expected at this time)
✅ 66M in rewards wallet (Staking, airdrops, marketing, etc. over time)
✅ 57M in dev wallet (paid to dev contributors over time)
✅ Plans for pegged tokens on multiple chains for accessibility & usability
✅ Generous staking on (our own platform!) and blockchain developer rewards programs coming soon!
✅ CEX and Uniswap listing coming soon
Known from project Jupiter $JUP, the very active dev Moontography ✅
Dextools chart: https://www.dextools.io/app/pancakeswap/pair-explorer/0xaabafd64feb2ec235b209a95d4dc9b08e225379c
Pancakeswap: https://exchange.pancakeswap.finance/#/swap?inputCurrency=0xbb4cdb9cbd36b01bd1cbaebf2de08d9173bc095c&outputCurrency=0x025c9f1146d4d94f8f369b9d98104300a3c8ca23
Telegram: https://t.me/moontographyproject
Website: https://moontography.com/
Roadmap: https://moontography.com/#roadmap
Token contract: 0x025c9f1146d4d94F8F369B9d98104300A3c8ca23
✅ Original presale link with Liquidity Unlock Date (2021-12-31 23:59): https://dxsale.app/app/pages/defipresale?saleID=1204&chain=BSC
✅ Proof of 200M tokens locked: https://dxsale.app/app/pages/dxlockview?id=1&add=0x2d1B8ba4a49C0338A301BD16ff43E4A6d2604dc3&type=tokenlock&chain=BSC
Instructions on adding $MTGY to your MetaMask Wallet
While these are specific instructions for MetaMask, most ERC20 and BEP20 wallets have a very similar flow to add custom tokens.
1. In your wallet, you'll need to make sure you're in the BSC network (default is Ethereum Mainnet). If you don't have it setup, follow these instructions to add BSC to your MetaMask wallet: https://academy.binance.com/en/articles/connecting-metamask-to-binance-smart-chain
2. In your wallet once BSC network is selected, click Add Token
3. Copy the MTGY contract address, 0x025c9f1146d4d94F8F369B9d98104300A3c8ca23, in the contract field
4. The other fields should autopopulate
5. Save and MTGY will show up in your wallet
Surprise! I've been building
for the last 2 weeks. Time to merge $MTGY & $OKLG and create the biggest crypto empire we've ever seen:
- Virality, meme, culture, community, utility
- Insane marketing and growth incoming
- Easy migration from $MTGY
Now to the fun part, what is next for MTGY and how do you as investors benefit/migrate. Here are the important cliffnotes and what you need to do to move forward:
1. With the new absolutely incredible communities we've created for both OKLG and MTGY, we have the meme, culture, hype, and virality components combined with utiilty never seen before and can merge communities with the expectation that we're now a family and we're all going to make it together.
2. The OKLG tokenomics and revenue model will drive TONS of growth and marketing potential, which we've already started huge investment to keep things moving forward.
3. The OKLG token will be the ecosystem token moving forward. You can and are enouraged to swap your MTGY for OKLG immediately in the platform https://app.moontography.com > SWAP MTGY FOR OKLG nav item
4. Within the next month at the latest we will be removing the MTGY/BNB liquidity and migrating to the OKLG LP. Please migrate your MTGY sooner than later so we can expedite this process soon.
5. All moontography dapps will be upgraded to used OKLG as the utility token, and will also support users to spend native token instead of market buying OKLG, but the transaction will trigger OKLG market buying instead (reduce barrier to entry for projects)
Please join the OKLG TG to come check out how amazing it is: https://t.me/ok_lg
Please review the new WP attached/located below attached, and be sure to swap your MTGY for OKLG as soon as reasonably possible!
DAISY Global is a disruptive crowd funding model for financial technologies, a trusted Crypto & Forex AI trading platform with broad prospects and development potential. DAISY Global is A Crowdfunding smart contract that offers profits, equity and income to every member.
=>【Click Here to Join Now】

Excellent Crypto project platforms:
Meta Force
is an upgrade to the popular Forsage. Meta Force is a smart contract that requires you to network with people and build a solid team structure. You can earn income fast and all earnings are paid instantly to your crypto wallet. You receive 100% as referral commission; Even wider spillovers possibilities,Meta Force Eco-system, Unlimited Income Potential.You can get started with just $10 USD, This is a golden opportunity nobody will want to miss.
=>【Click here to learn more..】